Let's get to work!

The following article is a stub! It is not considered to be complete regarding the information available for it and still need to be improved. Your help is highly appreciated here. You can help us by expanding it!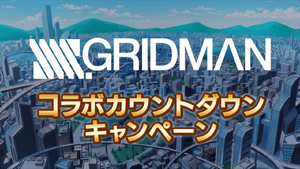 Yume wo Utau Eiyū (夢を唄う英雄, Yume wo Utau Eiyū? lit. "The Hero Who Sings of Dreams") is an event in Senki Zesshō Symphogear XD Unlimited. It is a collaboration with the anime series SSSS.GRIDMAN.
Event Dates
| Date Start | Date End |
| --- | --- |
| May 31, 2019 | June 13, 2019 |
Introduction
新たに繋がった並行世界。
その世界で、突然響の頭に、助けを求める謎の声が聞こえてくる。
その声に導かれ、向かった先にいたのは、
パソコンに映し出された『グリッドマン』と言う人物。

時を同じくして、突如街に出現する巨大怪獣。
装者たちが戦うがまるで歯が立たない。
その事態を解決するため、響に「力を貸して欲しい」というグリッドマン。
自分にできることがあるなら協力すると答える響。

その瞬間、熱くたぎる正義の心が響に宿り、
感じるままに、叫ぶッ! アクセスフラッシュッ!

強い光に包まれ、気が付くと、
なんと響が巨大化して街の上に立っていた――。
Songs
Event Cards
Event Cards introduced in Yume wo Utau Eiyū
Hibiki Style: Grid Full Power Finish
Grid Knight Circular
Hibiki Style: Grid Beam
Emergency operation
Everything is in my control
It's an emergency situation!
Gallery
Video
External Links
Community content is available under
CC-BY-SA
unless otherwise noted.