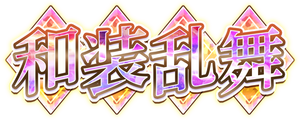 Wasō Ranbu (和装乱舞, Wasō Ranbu? lit. "Boisterous Dancers Dressed in Kimono"), titled Kimono Rumble in the English version, is an event in Senki Zesshō Symphogear XD Unlimited.
Event Dates
Japanese Version
| Date Start | Date End |
| --- | --- |
| October 1, 2017 | October 12, 2017 |
English Version
| Date Start | Date End |
| --- | --- |
| March 12, 2020 | March 29, 2020 |
Introduction
——The philosophical armament "Muramasa"
A cursed sword that scatters misery around itself.
Under its influence, a new and powerful Noise appears.
To challenge the threat,
After a bloody training regimen,
A new power was obtained.
Kimono——.
Under the moonlight,
The beautifully-costumed Gear Users
Now dance brilliantly.
Story
Chris, Shirabe, and Kirika travel to a parallel world where the Symphogear and Section Two do not exist, with America heading up research on relics and Dr. Ver cooperating between them and Japan. Meanwhile, a new type of Noise, "Musha Noise", have appeared.
Songs
Event Cards
Event Cards introduced in Wasō Ranbu
ARTHEMIS EIDOLON
Murderous Χ Style: Blowing Wheel
Intense Void: Little One-Inch
QUEEN'S ABYSS
Blue Sword Lightning Punishment
FIERCE†SCAR
Kimono dress-up challenge
Chubby upper arm
For the sake of my purpose
Gallery
Video
External links
Community content is available under
CC-BY-SA
unless otherwise noted.