Shem-Ha Mephorash (シェム・ハ・メフォラス, Shemu Ha Meforasu?), more commonly known as Shem-Ha (シェム・ハ, Shemu Ha?), is a Custodian, and the self-proclaimed God of Earth.
One of the main antagonists of Senki Zesshō Symphogear XV, she is awakened from her slumber by Fudo Kazanari and Noble Red, and reborn into the body of Miku Kohinata.
Etymology
The name "Shem-Ha Mephorash" is taken from Shem HaMephorash (Hebrew: שם המפורש), a term describing a hidden name of God in Kabbalah. It can also be interpreted as the term for Christian God.
Appearance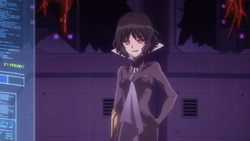 While in Miku's body, Shem-Ha wears her hair down, without a ribbon like Miku does, and her eyes become purple with glowing red rings on the inner edge of the iris.
Shem-Ha wears a fitting black-and-purple dress, with a white long cravat-like accessory on her chest. She has the converter pendant for the Faust Robe of Shénshòujìng around her neck, and wears her vambrace on her right arm.
History
After her death in prehistoric times, Shem-Ha's body and vambrace was sealed in a coffin deep under Lake Vostok in Antartica. The coffin was a facility equipped with high defensive capabilities that drove off anyone who would approach it; from this fact, it is speculated that the revival of Shem-Ha is something that should have been prevented.[1]
Synopsis
Symphogear XV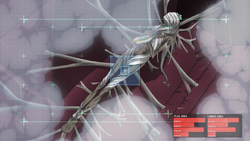 Originally found buried in Lake Vostok, and guarded by a weaponized robotic coffin, the mummified corpse of Shem-Ha was recovered by S.O.N.G.. It was taken by the Americans to the Los Alamos National Laboratory for examination, however, the corpse was accidentally destroyed during scanning and the vambrace on it's right arm was all that remained.[2]
Under orders from Fudo Kazanari, it was stolen by Vanessa Diodati, and taken to the Château de Tiffauges for Fudo's plan manifesting Divine Power. Using Miku Kohinata as vessel it was planned for her to absorb to Divine Power generated by the vambrace, but instead the power absorbed Miku and revived the ancient Shem-Ha in her body. This was only able to happen because Miku had been previously purged of the original sin by the light of the Shénshòujìng.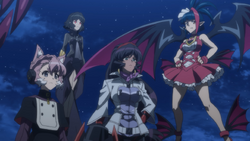 Shem-Ha had been fitted with the Faust Robe of Shénshòujìng, created by Vanessa Diodati, as a means for Fudo Kazanari to control her power.[3] However, Noble Red deactivated the robe's direct feedback system, allowing Shem-Ha to move uninhibited. Though Shem-Ha immediately killed them upon awakening, she nonetheless revived Noble Red and changed their bodies into perfect monster forms, then enlisted them into fulfilling her plans, informing them of her plan to return the world to the way it was 5000 years ago.
During a battle with Maria, she displays interest in her Airgetlám, asking Maria if she's a descendant of Enki. As Maria retreats, Shem-Ha summons Yggdrasil and explains her confusion at humanity attempting to flee when the Yggdrasil system towers over the Earth.
Abilities
Shem-Ha describes herself as "words themselves".[4] She has the ability to use "Outer Physics", an alchemy-like ability that she has used to fire energy beams and forcefully rewrite molecular structures and transmute matter into silver.
Powers and Abilities
Vambrace of Shem-Ha (

シェム・ハの腕輪

Shemu Ha no Udewa

?

): Shem-Ha's personal weapon. Shem-Ha has shown to be able to possess individuals who absorb the power generated by the vambrace. The vambrace is able to fire beams of light capable of piercing through and slicing targets, such as easily bisecting Millaarc and Elsa, and decapitating Vanessa.

Zohar Schleg (

ゾハール・シュレグ

Zohāru Shuregu

?

, lit. "Silver Transmutation")[5]: By using Outer Physics, Shem-Ha have the ability to rewrite molecular structures and transmute matter into silver. She also able to fire energy beams.
Revival and Regeneration: Shem-Ha has displayed the ability to kill, revive, and change the physical makeup of people. In the case of Noble Red, Shem-Ha made them "complete monsters", removing their need to rely on Panacea Formula to live and use their abilities. She also has the same defensive ability displayed by the prototype Yohualtepuztli and Divine Weapon, which negates damage done to her by sacrificing one version of herself in a parallel universe.
Enhancement: Shem-Ha was able to instantly enhance Noble Reds' Teleport Gems, giving them a golden shine and the ability to teleport the user from Earth to the Moon.
Yggdrasil System: Shem-Ha have the ability to hack into Yggdrasil System and reconstruct it so that she can modifying the planetary environment of the world.
Shénshòujìng (

シェンショウジン

Shenshōjin

?

): Shem-Ha's personal weapon, was created by Vanessa after she stole remaining fragments of Shénshòujìng from the Los Alamos National Laboratory. It was created not to be a combat weapon, but to help restrain and control Shem-Ha.

Enhanced Zohar Schleg: When under the power of the Robe, Shem-Ha's Zohar Schleg become much more powerful. Her Zohar Schleg become much more destructive to the point that Carol have to rely on her Golden Transmutation to block Shem-Ha's beam. The deflected silver beam hit the surroundings of the battle field and turn them into silver.
Mushumad Shot (

ムシュマッド・ショット

Mushumaddo Shotto

?

)[5]: By using the cables of her arms, Shem-Ha able to use the same ability like Miku (Reverberation) to repeatedly hit Hibiki.
Deus ex Machina (

デウス・エクス・マキナ

Deusu ekusu Makina

?

, lit. "god from the machine"): Arguably, Shem-Ha's strongest ability and her final form. Using Shénshòujìng's purifying ray, Shem-Ha can create a giant hornet-like machine, with Shem-Ha herself contained within it's head. In this form, Shem-Ha's destructive powers are at their peak, allowing her to shoot highly dense purifying ray. Likewise the beast itself is nigh-indestructible, requiring the combined power of all six Burning X-Drive Symphogear users and Carol into a single point to actually break it down.

Hornet-like Monster: Using Deus ex Machina's power, Shem-Ha created hundreds of hornet-like monster that able to shoot red beam similar to the precursor civilization monster in Antarctica and Lunar Ruins that shoot green beam.
Video
Trivia
Shem-Ha shares some similarities with Finé:

Both possess the bodies of supporting characters, with identical systems of reviving their consciousness from where it is sealed in their genes (though Finé can only possess her descendants, while Shem-Ha can possess anyone purged of the original sin).
Both disapprove of the Curse of Balal.
Her licking Miku's ear in XV Episode 11 appears to be a callback to Finé (as Ryoko) biting Hibiki's ear in S1 Episode 3.
Shem-Ha sexually harassing a bound Miku is similar to Finé's sexual abuse of Chris Yukine in Episode 5.
Shem-Ha uses Miku's voice to deceive Hibiki is similar to Finé using Ryoko's voice to deceive Genjuro before piercing him with Nehushtan Armor in Episode 11.

The XV in Senki Zesshō Symphogear XV refers to Shem-Ha, who is based on the fifteenth card in tarot, The Devil.
Quotes
"You struggle so much. A miracle made possible by your strong feelings?" - Shem-Ha to Miku (Episode 11 of XV)[6]
"My vessel, the girl who was first to be released from the curse... I am Shem-Ha. The coming future of this planet. Your name means the same, does it not?" - Shem-Ha to Miku (Episode 11 of XV)[6]
References
Symphogear Users

Hibiki Tachibana • Tsubasa Kazanari • Chris Yukine • Maria Cadenzavna Eve • Shirabe Tsukuyomi • Kirika Akatsuki • Kanade Amou • Miku Kohinata • Serena Cadenzavna Eve

Main Antagonists

Finé • John Wayne Vercingetorix • Carol Malus Dienheim • Adam Weishaupt • Shem-Ha Mephorash

Villains

Nastassja Sergeyevna Tolstaya • Leiur Darāhim • Garie Tūmān • Micha Jawkān • Phara Suyūf
Saint-Germain • Cagliostro • Prelati • Tiki • Vanessa Diodati • Millaarc Cranstoun • Elsa Bête • Fudo Kazanari

Supporting Characters

Genjuro Kazanari • Shinji Ogawa • Sakuya Fujitaka • Aoi Tomosato • Elfnein • Yumi Itaba • Kuriyo Ando
Shiori Terashima • Masahito Shibata • Ryoko Sakurai

Other Characters

Taketsugu Hiroki • Tony Glazer • Masanori and Sonnet M. Yukine • Komichi Ayano • Yuki Godai
Otome Kaburagi • Ayumu Takasaka • Tōko Sabe • Ako Ōki • Akira Tachibana • Yatsuhiro Kazanari • Izak Malus Dienheim • Sonia Virena • Stephan Virena • Enki • Souji Ogawa • Suteinu Ogawa

Manga Only

Tsuyama

XDU Only

Hibiki Tachibana (Another) • Tsubasa Kazanari (Another) • Chris Yukine (Another) • Maria Cadenzavna Eve (Another) • Shirabe Tsukuyomi (Another) • Kirika Akatsuki (Another) • Kirika Akatsuki (Android) • Serena Cadenzavna Eve (Another) • Dr. Adolf • Bartholomew Roberts • Good Speed • Genie of the Lamp • Alicia Bernstein • Sharon • Oswald • Midori Kisesa • Ruri Kisesa • Vlad • Krsnik • Miina Weltkatze • Julius • Bell • Kyouji Ishiya • Orochi • Noel • Jeanne • Mikoto Yumeno • Ater • Merrow • Natsumi Himejimasu • Starlit • Forte • Lala • Nikola Tesla

Kasumi Toyama • Tae Hanazono • Rimi Ushigome • Saaya Yamabuki • Arisa Ichigaya • Ran Mitake • Moca Aoba • Himari Uehara • Tomoe Udagawa Tomoe • Tsumugi Hazawa • Yukina Minato • Sayo Hikawa • Lisa Imai • Ako Udagawa • Rinko Shirokane • Kokoro Tsurumaki • Kaoru Seta • Hagumi Kitazawa • Kanon Matsubara • Misaki Okusawa • Aya Maruyama • Hina Hikawa • Chisato Shirasagi • Maya Yamato • Eve Wakamiya

Gridman • Alexis Kerib • Samurai Calibur • Max • Borr • Vit

Eren Yeager • Mikasa Ackerman • Levi Ackerman • Armin Arlert

Shinjiro Hayata • Dan Moroboshi • Seiji Hokuto • Norazam Alien • Ifro Alien

Nanoha Takamachi • Fate Testarossa Harlaown • Hayate Yagami • Lindy Harlaown • Amitie Florian • Kyrie Florian

Lloyd Irving • Colette Brunel • Presea Combatir

Alex • Makoto Yasaka • Toru Yasaka

Kiramai Red • Kiramai Yellow • Kiramai Green • Kiramai Blue • Kiramai Pink • Mashin Fire • Mashin Shovellow • Mashin Mach • Mashin Jetter • Mashin Helico

Karen Aijou • Hikari Kagura • Nana Daiba • Giraffe
Community content is available under
CC-BY-SA
unless otherwise noted.