Let's get to work!

The following article is a stub! It is not considered to be complete regarding the information available for it and still need to be improved. Your help is highly appreciated here. You can help us by expanding it!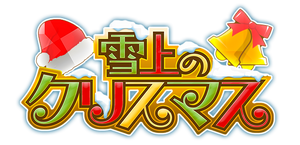 Setsujō no Christmas (雪上のクリスマス, Setsujō no Kurisumasu?, lit. "Christmas Above Snow") is an event in Senki Zesshō Symphogear XD Unlimited.
This event has a sequel in the event Akatsuki no Santa Claus.
Event Dates
| Date Start | Date End |
| --- | --- |
| December 13, 2017 | December 26, 2017 |
| December 7, 2018 | December 25, 2018 |
Introduction
Songs
Event Cards
Event Cards introduced in Setsujō no Christmas no Christmas
Pi Style: Ice Blade Performance
DEEP PARADE
Twin guitar
Tennis match!
I'm your senior
Teacher's scolding
Gallery
Video
External Links
Community content is available under
CC-BY-SA
unless otherwise noted.