Senki Zesshō Symphogear XV
(

戦姫絶唱シンフォギアXV

Senki Zesshō Shinfogia XV

?

)
, subtitled "Create a history, with the light God could not know",
[1]
is the fifth and final
[2]
season of the
Senki Zesshō Symphogear series
.
Cast
Synopsis
Intending to turn the Divine Power against the Gods themselves, the progenitor of humanity Adam Weishaupt was struck down by the Symphogear, transmuted by the Lapis Philosophorum powered by Saint-Germain's ideals.
The secretive Bavarian Illuminati met its end, and the remnants forced into a corner by the actions of various governments. And— The Illuminati weren't the only ones driven into a corner.
Although they wish for a political solution in order to prevent the embargo from becoming the spark of a new global conflict, conflicting expectations of national parties led only to discord, and progress is nearly non-existent.
Even Japan, one of the countries involved, had sent an appeal to America for a cooperative partnership to mend the broken relationship between the two countries. Despite this, the act began and ended in superficiality and no agreement was ever reached.
The fate of the world is one that no-one can yet see. Furthermore, the tensions run high at home as well.
From a place where all the city's landmarks could be viewed at once, riding in a gondola on the large Ferris wheel famed as a dating location, were Lydian Private Music Academy students Tachibana Hibki and Kohinata Miku.
The taiyaki they hold in their hands, filled with rice dumplings, are splendid. Without being too sweet, the epitome of red bean paste has no faults to speak of.
Yet even so, as tension runs between them, Miku calmly poses a question to Hibiki. Sure enough, a question that the answer to which lies only within Hibiki, who is at a loss for words.
The threads of legend weaved in the past converge on XV. The battle around the Holy Shroud occurs in the dead of summer. With the bursting lake's surface as their stage, the Girls' voices unleash their radiance.
Keywords
Episodes
Songs
Character songs
Bonus CDs
Other
Gallery
Concept Art
Official Artwork/Illustrations
Cast Countdown
Official Watching Party
XDU Asumin's XV Episode Preview!
Snapshots
Trivia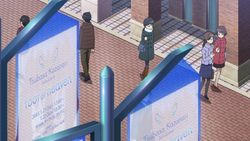 In one frame of XV episode 2, on a board displaying the time and date of Tsubasa's concert, it is revealed that the present year is 2045.
Videos
External Links
References and Notes
Community content is available under
CC-BY-SA
unless otherwise noted.