Jurassic World: Dominion Dominates Fandom Wikis - The Loop
Play Sound

Millaarc Cranstoun (ミラアルク・クランシュトウン, Miraaruku Kuranshutoun?) is a member of the remnant group Noble Red, split off from the Bavarian Illuminati.
Etymology
Personality
At first glance, Millaarc appears cheerful and carefree in mundane situations, and sadistically gleeful and remorseless when facing opponents in battle. However, Millaarc's maliciousness is an act she puts on while doing "dirty work" she doesn't want Elsa or Vanessa to involve themselves in. Though Millaarc resents being forced to put on the role of a monster by people more powerful than her, she is self-aware enough to not ask for forgiveness from her victims, and she understands she is "weak", rather than a "strong" person like someone such as Tsubasa Kazanari. If Millaarc has to do something for Elsa's and Vanessa's sakes, though, she will risk her life and health to protect them.[3][4][5]
Millaarc has a verbal tic of ending most of her sentences with "da ze" (だぜ), a masculine form of speaking in Japanese. She refers to herself with the pronoun 'uchi' (うち), a pronoun usually used by women and children who speak in the Kansai dialect.
History
She originally hails from Styria (also known as Steiermark), a location in south-eastern Austria. During a trip to Slovakia, Millaarc was kidnapped by a torture club. She was then sold to a remote branch of the Bavarian Illuminati, who used her in experiments to recreate a mythical vampire, undertaken in the organization's pursuit of eternal life.
Unfortunately, the experimentation on Millaarc did not produce the planned vampire, and she was deemed a failure. Despite this failure, she still shows traits of the vampire she was meant to be — most notably in her 'Stained Glance' attack.[6] During Millaarc's time as an experimental subject, she met Vanessa Diodati and Elsa Bête.
After the collapse of the Bavarian Illuminati following Adam Weishaupt's death, Vanessa, Millaarc, and Elsa escaped their confinement. They met Fudo Kazanari, who gave them protection in exchange for cooperating with his plans, and became the remnant group Noble Red, led by Vanessa.
Synopsis
Symphogear XV
Attacks & Abilities
Abilities
She is gifted with not only the ability to fly and enough strength to be able to fight unarmed, but also the power of mind-flaying that is hidden in her cursed gaze, making her more capable of both direct and subversive attacks.

However, to keep in top form, Millaarc requires a steady supply of blood — specifically, blood of the rare type RH-Xxoyle, which is only found in one out of roughly a million people. See Panacea Formula for more details.
Image
Description

*Note: Hover for 2nd image.
Chiroptera Wings
A special bio-boosted unit wings possesses by Millaarc that allows her to fly, and enhances the strength in her limbs. She also has the ability to transform one of the wings to enhance one of her fist for stronger punch, while maintaining another wing for flying.

*Note: Hover for 2nd image.
Flying Bat Press
(

フライングバットプレス

Furaingu Batto Puresu

?

)[7]
A special attack when using her transformed Chiroptera Wings. Millaarc remove Chiroptera from her body to use it as a boomerang, named 'Dynamic', sending it to hit her targets, when it flies back, it transformed to enhance both of her legs for a stronger kick on her targets.



*Note: Hover for 2nd image.
Stained Glance
(

ステインドグランス

Suteindo Guransu

?

)
A mysterious ability that is theorized to be a power that can be traced back to vampires of legend. This ability allows Millaarc to invade her target's mind via looking into their eyes. She was able to affect Tsubasa Kazanari with the Stained Glance, but was unable to do the same with Hibiki Tachibana due to Hibiki not being vulnerable enough, nor with Elfnein due to Carol Malus Dienheim's influence. The ability also leave a side effect on the Tsubasa, leading her to have illusion of Millaarc surrounding her.
Image
Description
Enhanced Chiroptera
After being killed and revived by Shem-Ha, Millaarc has become a complete vampire and no longer rely on Panacea Formula. She can now grows her enhanced limbs at once and fly without the need to transform the wings. This also allows her to fly, punch and kick freely without any restraints.
Echolocation
(

エコロケーション

Eko Rokēshon

?

)
The ability where bats have weak eyesight, but they seem to know the topography and the position of prey by ultrasonic waves.

*Note: Hover for 2nd image.
Open Bat
(

オープン・バットッ

Ōpun Batto

?

)
The ability to separate into multiple bats to avoid an attack. However, this ability will also leave a side effect on the Millaarc if she gets 90% defeated, leading her to have only 10% of her body in a form of a bat.

*Note: Hover for 2nd image.
Two-Platoon Destruction
(

ツープラトンデストラクション

Tsūpuraton Desutorakushon

?

)[7]
A special attack usable in "Open Bat" mode. Millaarc can create a second copy of her that mimics her. She now able to use unison to boost her firepower when confronting Tsubasa and Maria.
Relationships
Vanessa Diodati, Elsa Bête — Millaarc considers Vanessa and Elsa to be her precious family. She will actively risk her own safety to protect them, and Millaarc intentionally involves herself in doing Noble Red's dirtiest work so Vanessa and Elsa won't have to be burdened by it.[8]
Tsubasa Kazanari — Millaarc has interacted with Tsubasa very little beyond slaughtering her concert audience and mind-controlling her as part of Fudo Kazanari's plans. A comment by Millaarc given during her first battle with Tsubasa hints that Millaarc may admire her strength as a person, but it's ambiguous if Millaarc meant this genuinely or merely as a taunt.[9]
Quotes
(To Tsubasa) "Yes. We're weak! That's why we're not ashamed to do this!"'
Trivia
Millaarc's past appears to be a reference to the 2005 horror/slasher film, Hostel. In Hostel, during a trip to Slovakia, the protagonists are captured by the Elite Hunting Club, an organization where rich people pay to gruesomely torture and then murder victims.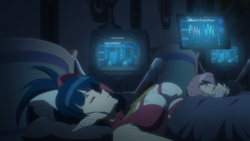 The official spelling of Millaarc's full name can be briefly seen on a computer screen during XV Episode 3.
Millaarc's origin of Styria, Austria, is the same country where Carmilla is set.
Millaarc's wings, Chiroptera, are named after the order of bats.
Millaarc is one of Aimi's two characters she voiced, the other being Kasumi Toyama from Senki Zesshō Symphogear XD Unlimited.
References
Symphogear Users

Hibiki

Tsubasa

Chris

Maria

Shirabe

Kirika

Kanade

Miku

Serena
Main Antagonists

Finé

Dr. Ver

Carol

Adam

Shem-Ha
Minor Antagonists

Nastassja

Phara

Leiur

Garie

Micha

St. Germain

Cagliostro

Prelati

Tiki

Vanessa

Millaarc

Elsa

Fudo
Supporting Characters

Ryoko

Genjuro

Shinji

Sakuya

Aoi

Elfnein

Yumi

Kuriyo

Shiori}}
Other Characters

Hiroki

Tony

Masanori

Sonnet

Akira

Enki

Komichi

Yuki

Otome

Ayumu

Tōko

Ako

Yatsuhiro

Izak

Sonia

Stephan

Souji

Suteinu
Manga Only

Tsuyama
XDU Only
(Another)

Hibiki

Tsubasa

Chris

Maria

Shirabe

Kirika

Kirika 🤖

Serena
Other Characters

Adolf

Bart

Speed

Genie

Alicia

Sharon

Oswald

Midori

Ruri

Vlad

Krsnik

Miina

Julius

Bell

Kyōji

Orochi

Noel

Jeanne

Mikoto

Ater

Merrow

Natsumi

Starlit

Forte

Lala

Nikola



Leovold




Karl


Tamaki

Haruki

Mutsumi

Asuka

XDU Collaboration Only


Kasumi



Arisa




Ran




Moca




Yukina


Lisa



Kokoro




Misaki




Aya




Chisato




Marina




Gridman




Gridknight




Calibur




Max




Borr




Vit


Eren

Mikasa

Levi



Armin


Shinjiro

Dan

Seiji

Norazam

Ifro

Nanoha

Fate

Hayate

Lindy

Amitie

Kyrie



Lloyd




Colette




Presea




Genis


Alex

Makoto

Toru



Kiramai Red




Kiramai Yellow




Kiramai Green




Kiramai Blue




Kiramai Pink




Mashin Fire




Mashin Shovellow




Mashin Mach




Mashin Jetter




Mashin Helico




Karen Aijou




Hikari Kagura




Nana Daiba




Giraffe




Seiya




Shun




Ikki




Shiryū




Hyōga




Saga




Gauma




Knight




Sizumu




Illya




Miyu




Kuro




Ruby




Sapphire