Kuriyo Ando (安藤 創世, Andō Kuriyo?)[2] is one of Hibiki's and Miku's friends and classmates.
Appearance
Kuriyo has short beige colored hair with a slightly longer strand on the left side of her face and pinkish-red eyes. She is most often seen wearing the Lydian Music academy uniform.
Synopsis
Season 1
She is first seen Episode 2 Calling Hibiki 'Bikki and asking her to go to Flower.
In Episode 3 she is seen along with Yumi feeding Hibiki as she writes her report. She later leaves with Yumi and Shiori to play badminton.
At lunch in Episode 7 Kuriyo comments that Hibiki is the one in the wrong as they notice the awkwardness between Hibiki and Miku. She tells Miku to just forgive Hibiki for being a blockhead. She makes another comment about Hibiki having a sort of secret job.
Kuriyo apologizes to Hibiki for what she had said the other day in Episode 8.
Attacks
MOMENTUM GLADIO -
NEXUS FULGUR -
Songs
Trivia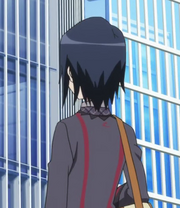 She is the only one seen to nickname Hibiki and Miku.
She calls Hibiki "Bikki" and Miku "Hina".
In episode 11 of Symphogear G, there is an error; her hair is black in a brief moment. This was later corrected in the blu-ray version.
Gallery
References
↑ Kuriyo's theme color is based on her Mechvaranus in XD Unlimited
↑ Romanized as "Kuriyo Andoh" in the booklet for the fifth S1 Blu-ray/DVD volume. The booklet for the fifth G Blu-ray DVD/volume changed this to "Kuriyo Ando".
↑ XDU-exclusive song
Symphogear Users

Hibiki Tachibana • Tsubasa Kazanari • Chris Yukine • Maria Cadenzavna Eve • Shirabe Tsukuyomi
Kirika Akatsuki • Kanade Amou • Miku Kohinata • Serena Cadenzavna Eve

Main Antagonists

Finé • John Wayne Vercingetorix • Carol Malus Dienheim • Adam Weishaupt • Shem-Ha Mephorash

Villains

Nastassja Sergeyevna Tolstaya • Leiur Darāhim • Garie Tūmān • Micha Jawkān • Phara Suyūf
Saint-Germain • Cagliostro • Prelati • Tiki • Vanessa Diodati • Millaarc Cranstoun • Elsa Bête • Fudo Kazanari

Supporting Characters

Genjuro Kazanari • Shinji Ogawa • Sakuya Fujitaka • Aoi Tomosato • Elfnein • Yumi Itaba • Kuriyo Ando
Shiori Terashima • Masahito Shibata • Ryoko Sakurai

Other Characters

Taketsugu Hiroki • Tony Glazer • Masanori and Sonnet M. Yukine • Komichi Ayano • Yuki Godai
Otome Kaburagi • Ayumu Takasaka • Tōko Sabe • Ako Ōki • Akira Tachibana • Yatsuhiro Kazanari • Izak Malus Dienheim • Sonia Virena • Stephan Virena • Enki • Souji Ogawa • Suteinu Ogawa

Manga Only

Tsuyama

XDU Only

Dr. Adolf • Bartholomew Roberts • Good Speed • Genie of the Lamp • Alicia Bernstein • Sharon • Oswald
Midori Kisesa • Ruri Kisesa • Vlad • Krsnik • Miina Weltkatze • Julius • Bell • Kyouji Ishiya • Noel • Jeanne • Mikoto Yumeno • Ater

Kasumi Toyama • Tae Hanazono • Rimi Ushigome • Saaya Yamabuki • Arisa Ichigaya • Ran Mitake • Moca Aoba • Himari Uehara • Tomoe Udagawa Tomoe • Tsumugi Hazawa • Yukina Minato • Sayo Hikawa • Lisa Imai • Ako Udagawa • Rinko Shirokane • Kokoro Tsurumaki • Kaoru Seta • Hagumi Kitazawa • Kanon Matsubara • Misaki Okusawa • Aya Maruyama • Hina Hikawa • Chisato Shirasagi • Maya Yamato • Eve Wakamiya

Gridman • Alexis Kerib • Samurai Calibur • Max • Borr • Vit

Eren Yeager • Mikasa Ackerman • Levi Ackerman • Armin Arlert

Shinjiro Hayata • Dan Moroboshi • Seiji Hokuto • Norazam Alien • Ifro Alien

Nanoha Takamachi • Fate Testarossa Harlaown • Hayate Yagami • Lindy Harlaown • Amitie Florian • Kyrie Florian
Community content is available under
CC-BY-SA
unless otherwise noted.