Kuriyo Ando (安藤 創世, Andō Kuriyo?)[Notes 1] is one of Hibiki's and Miku's friends and classmates.
Appearance
Kuriyo has short beige colored hair with a slightly longer strand on the left side of her face and pinkish-red eyes. She is most often seen wearing the Lydian Music academy uniform.
Synopsis
Season 1
She is first seen Episode 2 Calling Hibiki 'Bikki and asking her to go to Flower.
In Episode 3 she is seen along with Yumi feeding Hibiki as she writes her report. She later leaves with Yumi and Shiori to play badminton.
At lunch in Episode 7 Kuriyo comments that Hibiki is the one in the wrong as they notice the awkwardness between Hibiki and Miku. She tells Miku to just forgive Hibiki for being a blockhead. She makes another comment about Hibiki having a sort of secret job.
Kuriyo apologizes to Hibiki for what she had said the other day in Episode 8.
Attacks
Trivia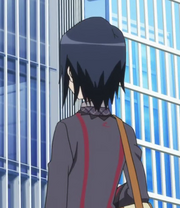 She is the only one seen to nickname Hibiki and Miku.
She calls Hibiki "Bikki" and Miku "Hina".
In episode 11 of Symphogear G, there is an error; her hair is black in a brief moment. This was later corrected in the blu-ray version.
Gallery
References
↑ Kuriyo's theme color is based on her Mechvaranus in XD Unlimited
↑ Romanized as "Kuriyo Andoh" in the booklet for the fifth S1 Blu-ray/DVD volume. The booklet for the fifth G Blu-ray DVD/volume changed this to "Kuriyo Ando".
Symphogear Users

Hibiki

Tsubasa

Chris

Maria

Shirabe

Kirika

Kanade

Miku

Serena
Main Antagonists

Finé

Dr. Ver

Carol

Adam

Shem-Ha
Minor Antagonists

Nastassja

Phara

Leiur

Garie

Micha

St. Germain

Cagliostro

Prelati

Tiki

Vanessa

Millaarc

Elsa

Fudo
Supporting Characters

Ryoko

Genjuro

Shinji

Sakuya

Aoi

Elfnein

Yumi

Kuriyo

Shiori}}
Other Characters

Hiroki

Tony

Masanori

Sonnet

Akira

Enki

Komichi

Yuki

Otome

Ayumu

Tōko

Ako

Yatsuhiro

Izak

Sonia

Stephan

Souji

Suteinu
Manga Only

Tsuyama
XDU Only
(Another)

Hibiki

Tsubasa

Chris

Maria

Shirabe

Kirika

Kirika 🤖

Serena
Other Characters

Adolf

Bart

Speed

Genie

Alicia

Sharon

Oswald

Midori

Ruri

Vlad

Krsnik

Miina

Julius

Bell

Kyōji

Orochi

Noel

Jeanne

Mikoto

Ater

Merrow

Natsumi

Starlit

Forte

Lala

Nikola



Leovold




Karl


Tamaki

Haruki

Mutsumi

Asuka

XDU Collaboration Only


Kasumi



Arisa




Ran




Moca




Yukina


Lisa



Kokoro




Misaki




Aya




Chisato




Marina




Gridman




Gridknight




Calibur




Max




Borr




Vit


Eren

Mikasa

Levi



Armin


Shinjiro

Dan

Seiji

Norazam

Ifro

Nanoha

Fate

Hayate

Lindy

Amitie

Kyrie



Lloyd




Colette




Presea




Genis


Alex

Makoto

Toru



Kiramai Red




Kiramai Yellow




Kiramai Green




Kiramai Blue




Kiramai Pink




Mashin Fire




Mashin Shovellow




Mashin Mach




Mashin Jetter




Mashin Helico




Karen Aijou




Hikari Kagura




Nana Daiba




Giraffe




Seiya




Shun




Ikki




Shiryū




Hyōga




Saga




Gauma




Knight




Sizumu




Illya




Miyu




Kuro




Ruby




Sapphire