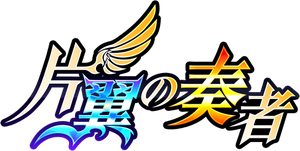 Katayoku no Sōsha (片翼の奏者, Katayoku no Sōsha? lit. "The One-Winged Performer"), titled One Winged Wielders in the English version, is an event in Senki Zesshō Symphogear XD Unlimited.
This event has a sequel in the event Sōyoku no Sirius, and its second version, Sōyoku no Sirius (Ver. Wing Beat).
Event Dates
Japanese Version
| Date Start | Date End |
| --- | --- |
| June 30, 2017 | July 14, 2017 |
| November 1, 2017 | November 20, 2017 |
| July 25, 2018 | August 16, 2018 |
| July 23, 2019 | August 31, 2019 |
English Version
| Date Start | Date End |
| --- | --- |
| February 27, 2020 | March 18, 2020 |
Introduction
At night, alone in her room, a Wing remembered a performance.
And she remembered once again what kind of performance it was for her.
The Wing was uncertain as to why she remembered it now.
Meanwhile, a strange occurrence caused the Noise to suddenly appear.
The Gear Users were informed of the existence of a parallel world by Genjuro and Elfnein.
And as the Gear Users headed to the parallel world to resolve the incident, before them appeared
The performance of a lone Heavenly Wing, battling the Noise.
Story
Hibiki, Tsubasa, and Maria, through use of the Gjallarhorn Relic, travel to a parallel world where Tsubasa sung her Superb Song during the Zwei Wing concert and died, with Kanade living on instead. Meanwhile, a new type of Noise known as "Karma Noise" has appeared.
Songs
Event Cards
Gallery
Video
External links
Community content is available under
CC-BY-SA
unless otherwise noted.