Elfnein
"This article is a stub. It is not considered to be complete regarding the information available for it and still need to be improved. You can help us by expanding it and your help is very appreciated."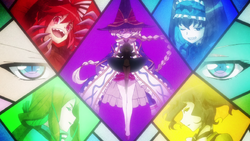 The Alchemic Cult (アルケミックカルト, Arukemikku Karuto?) was the name given to the group of Carol Malus Dienheim and her Autoscorers. They were the main antagonists of Senki Zesshō Symphogear GX.
Role
The Alchemic Cult is responsible for the "Magical Girl Incident" (魔法少女事変, Mahō Shōjo Jihen?) that takes place during GX.
Members
Trivia
The Alchemic Cult has a theme BGM found on the GX soundtrack, titled Alchemic Cult.